Get to Brno
Brno is located two hours or less by car from three European capitals (Prague, Vienna, and Bratislava).
By Plane
Brno Airport (BRQ, 0.6 million passengers a year)
The recommended option
Brno airport is a  small international airport near Brno. There are a few regular flights. This airport is a good option if you're coming from London (Standed - Ryanair, Luton - Wizzair), Munich (Lufthansa), Eindhoven (Wizzair).
The newly opened flight from Munich (Lufthansa) operates daily except Sunday and dramatically improves the flight connection directly to Brno.
From the airport, city bus #76 will take you to the city centre (30 minutes) and drop you off next to the main train station and Student Agency bus stop.  You can also take a taxi: approx. 300 CZK/€11.
Vienna International Airport (VIE, 22 million)
The second option
The biggest airline hub in Central Europe, flights to many destionations all over the world.
The easiest way to get from the airport to Brno are the RegioJet buses (online booking possible; use stop Viena Schwechat Airport as your starting place). The direct bus takes 2 hours.
Alternately, you can take a train from the airport to the city centre of Vienna and then take an EC train to Brno from there.
Václav Havel Airport Prague (PRG, 11 million)
This is the second busiest airport in the region.
There are no direct coaches between the airport and Brno, but it's possible to book the journey as one ticket with RegioJet with a connection at the Prague main bus station (Florenc). Czech Railways provides shuttle  buses between the airport and the Prague main train station.
To get from the Prague airport to Brno takes at least 3.5 hours by public transport.  It is faster to get to Brno from Vienna.
Bratislava Airport (BTS, 1.4 million)
This airport is a good option for cheap flights within Europe.  If you are flying to Brno from outside of Europe, this airport is not recommended.
 Bratislava Airport is a hub of Ryanair.
There is no direct transport connection between the airport and Brno. You have to take a city bus to the centre and take a coach or train to Brno from there. It takes at least three hours.
There are also small international airports in Ostrava (flights to Paris and London) and Pardubice (flights to Saint Petersburg and Moscow). Both have good train and bus connections to Brno.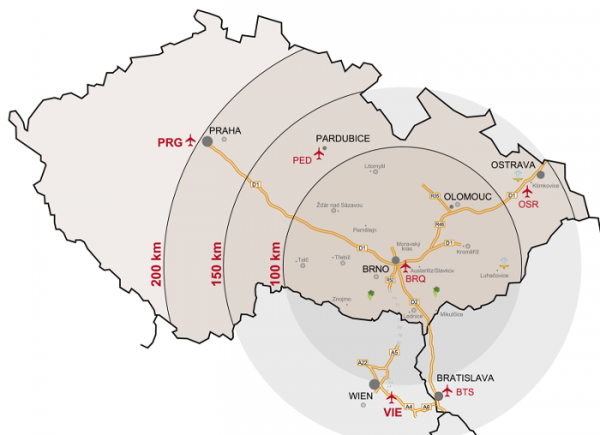 By Train
Brno has good train connections to several European cities and train is the fastest and most convenient means of transportation between big cities in the region. All intercity trains arrive and depart at the main station Brno hl. n., which is a hub of public transport in the city.
Train Timetables:
Prague - trains between Prague and Brno go hourly, 2.5 hours
Vienna - trains between Wien Hbf and Brno go every hour, 1.5 hour
Bratislava - from Bratislava Hlavna Stanica hourly, 1.5 hour
Budapest - from Budapest-Keleti pu several trains every day, 5 hours
Warsaw - from Warszawa Centralna several times every day (usually one connection), 7 hours
Berlin - from Berlin Hauptbahnhof several trains every day, 7.5 hours
By Bus
Brno is part of the European bus network and all connections and their prices are similar to trains. RegioJet and Eurolines provide buses to many european cities. Most Eurolines busses arrive at Brno-Zvonarka, Brno's main bus station. Student Agency buses arrive at a station opposite the Grand Hotel which next to the main train station.
By Car
Brno is well-connected to other cities by highway. You can get easily to neighboring countries by car. For using the Czech highways you have to purchase a highway sticker.  The 10 day sticker costs 350 CZK/13 € and can be purchased at every gas station. See Transport in the Czech Republic website for more infromation about driving regulations. Travel time examples:
Prague - 210 km, 2 hours
Bratislava - 130 km, 1.3 hours
Vienna - 143 km, 1.8 hours
Budapest - 326 km, 3 hours
Munich - 587 km, 5.3 hours
Berlin - 555 km, 5.2 hours
Warning: there are many roads under reconstruction in and around Brno. Especially the D1 highway is under complete reconstruction. There are 5 areas on the highway between Prague and Brno where the traffic bandwith is limited and occasional traffic jams may occur. The traffic bandwith is very limited due to reconstruction also on D1 between Brno and Vyškov (direction to Ostrava and Poland) and traffic jams are very common there. Please adjust your travel time estimations accordingly and check for current traffic info (Czech only).