Accommodation
This page lists hotels that has offered a special rate for LibreOffice Conference attendees. The conference organizers are not anyhow associated with the hotels and they're not sorted by preference, but by distance from the venue.
Brno offers much more lodging options. If any of the listed hotels doesn't suit you, just use booking websites such as booking.com to find the best suited accommodation for you.
Please note, each attendee is responsible for booking his/her hotel room! 
HOTEL VISTA ****
Hotel Vista is conveniently situated near the conference venue – just 2 tram stops (tram 1).
Hotel Vista offers specious and modern rooms and suites with mini-bar, flat SAT TV, free Wi-fi, fan and basic cosmetics in the bathroom. Suites additionally have kitchen, living room and dining room. Room rates are inclusive of rich buffet breakfast served from 6:30 till 10:00 a.m. There are also finish sauna and massages available at the hotel´s small wellness (reservation is necessary). Parking on the hotel´s parking lot is free of charge.
Double Room occupied by one person - 1340 CZK (~ €50)/night
Double Room occupied by two persons - 1550 CZK (~ €57)/night
Apartment for 1-3 persons - 1950 CZK (~ €72)/night
Address: Hudcova 72, 621 00 Brno
Website: www.vista-hotel.cz
Email: hotel@vista-hotel.cz
Phone: (+420) 541 217 088
To get the special rate please mention the password: "libocon16" when you book the room via e-mail directly with the hotel. Booking with the special rate is only possible via phone or email.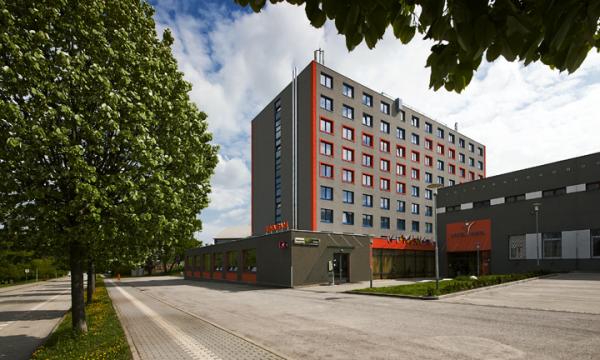 Holiday Inn Brno ****
Holiday Inn has the 4* Superior quality standard. It offers complimentary buffet breakfasts, air-conditioned rooms with coffee and tea sets, pillow menu, free WiFi, Samsung Smart TV, free entrance to RelaxZone (sauna and MiniGym). More about the services on the website of the hotel.
Single Room - 1550 CZK (~ €57)/night
Double Room - 1950 CZK (~ €72)/night
To make a booking, please write an email to reservations@hibrno.cz or call (+420) 543 122 018-019 and mention the reservation code LIBREOFFICE16.