Community dinner
We are looking forward to see you at the Community Dinner Tuesday September 22th. 2015 at 19:30. All registered participants in the conference are invited to the dinner. The dinner is on your own expense but we have a special offor from the restaurant.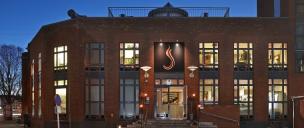 The event will take place at Restaurant Flammen, Toldbodgade 6, 8000 Aarhus (See http://www.restaurant-flammen.dk/aarhus/). The restaurant is very close to the venue. Map: http://www.openstreetmap.org/#map=19/56.15214/10.21172.
For fixed price 199 DKK we have access to the grill buffet with 15 kinds of meat and 50 varieties in the salad bar. We get a drink when we arrive and further beverages is at your own expense.
Only pre-orders will get this special offer. Pre-order your dinner below.
Registration for the Community Dinner is closed. Please contact the conference staff at the reception desk.
The restaurant close at 10 PM.